A badass looking granny in Welsh costume c. 1905 (Linda Jean)
Failte! I know what some of you are thinking: Britain? Isn't this the very same country that was the powerhouse behind the largest imperial force during the 19th century? Perhaps the most mainstream and stereotypical representation of the era that most steampunks base their outfits, prose, and characters off of?
Yep.
Yep it is. But the three-piece ditto suits and bustle dresses weren't everybody's traditional clothing. Even in the British Isles, there were cultural minorities with their own specific modes of dress that were still being used- even in the heady era of the empire. Let's take a look at the Scottish, Welsh, Irish, and perhaps a quirky local culture or two!
Scottish miners doing God-knows-what to a draft horse at the turn of the century. (lineages)
Historical Background
England's domination of the globe actually started pretty close to home. In the Middle Ages you have frequent trips into Scotland, the slow withering of Welsh control over their own territory, and from the 13th to the late 16th centuries an attempt at colonizing an area of Ireland called the Pale (whose boundaries indicated the borders of English authority, hence where we get the modern expression "Beyond the Pale"). Needless to say, from its beginning, England had its fingers in a lot of pots- much to the overall chagrin of the native inhabitants who
sort of
had their own languages and customs..
Jump ahead to 1707- while English monarchs had reigned over Scotland since the ascension of James in 1603, Parliament made it official with the Acts of Union. For the first time, we have Great Britain (the Scottish were not pleased). Then, in 1800 we have another Act of Union that merges Great Britain with Ireland (the Irish were not pleased). Poor conditions for native Irish who had not capitulated to the British government was rough, and made worse in 1840 with the start of the Irish Potato Famine which led to a mass migration to the Western Hemisphere. The Scottish had an emigration wave of their own starting in the mid-1700s after the failure of the Jacobite rebellions, sending them to the United States, Canada (Nova Scotia, anyone?), and later Australia and New Zealand.
Don't think for a moment that the Welsh were twiddling their thumbs during the 19th century (turns out, they weren't pleased either). In the mid-1800s they were engaging more and more in riots and unrest against the British government, which led to a ban on the Welsh language, particularly in schools where students were beaten for speaking it.... funny we should mention the Welsh....
Two ladies in Welsh Costume taken by John Thomas c. 1875 (Tate Gallery)
Welsh Wardrobe
I give the Welsh a hard time, I'm not going to lie. Mainly because their language has more consonants in a word than I have black tank tops in my wardrobe. Also sheep jokes. (And a grudge from my days as an entirely too precocious 13 year old attempting to learn Welsh. Ah, the mistakes we make when we're young...) But no more! I need to give the Welsh their due in one particular cultural department: Folk dress.
Unlike most folk dress, which typically develops over time based on the fashion norms of common people- Wales invented its own. In 1834 it was the opinion of local gentry and Cymryphile Augusta Hall, Baroness of Llanover, that Wales needed a national costume to propagate its cultural and artistic identity. After publishing a fairly respected essay on the topic (since this was a full hundred and seventy years before twitter), she and her lady friends set about taking icons of Wales (such as the wool trade), typical rural dress of the early 19th century (like plaid and flannel petticoats), and a few fanciful details to create a quaint homage to the land she loved so well. This is the result:
Some ladies wore these to sewing or knitting groups. (betws-y-coed)
Originally the costume was only intended to be worn at heritage, fancy-dress, and political functions- but it soon caught on amongst Welsh ladies that (much like many indigenous cultures today who have faced modernization) people would pay money to see or have a picture of them wearing these outfits. In fact, there are many surviving postcards of women sewing or carrying on other household tasks dressed this way that people would buy on trips to Wales. So from the beginning, the Welsh costume was considered more touristy than legit, but many have a soft spot for this attire. Personally I think it's adorable, particularly the stovepipe hat. A men's costume was developed later but it wasn't nearly as popular. It lacked the hat.
(It's totally the hat.)
"Sketches of the Irish Character- the Irish Cow Doctor" by E. Fitzpatrick, 1857 (Crawford Gallery, Cork)
Debunking Some Myths on Irish Fashion...
Much like the Welsh, you don't really think of the Irish having their own traditional 19th century dress, other than horribly stereotypical leprechaun garb. However, like a lot of stereotypes, it's based on a little sliver of truth. One thing particularly noted about 19th century Irish fashion was its tendency to be stuck in a time warp. Clothing could be twenty, even forty years behind when it was originally in vogue thanks to wide-scale poverty, which inspired a great amount of thriftiness. Vests and coats could be patched, holes could be darned or rewoven, making Irish clothing very durable, albeit distressed. There are even records of people willing sets of clothes to their relatives that had been worn much of the deceased's life (this may not be as terribly shocking when average life span is taken into account, which was typically not more than 50).
The result is Irish men wearing the swallowtail coat and knee breeches of the 1810s and 20s in the mid-century and women in laced bodices and broad skirts. Typical fabrics were linen, wool, and that most lower-class of robust materials- corduroy! For those who could afford it, the Irish lacemaking industry was in full swing during this period and its product was highly sought after.
An Irish family presumably arriving at Ellis Island in the late 19th century (Patricia McCarthy)
The tradition of the homespun sweater is also prevalent in Ireland, with examples turning up as early as the beginning of the 17th century. The two most popular varieties of sweater are the Aran and the Donegal. Aran sweaters are stitched with a variety of patterns unique from family to family and due to their nigh indestructible nature, are often passed between generations. A true Aran sweater is always an off-white, since the yarn is never dyed. In contrast structure-wise, Donegal sweaters are woven into a woollen, tweed-like fabric flecked with multiple colors twisted into the base yarn. Both are 100% sheepswool and cozy as hell.
As a side-note, upon research it appears that the most frequent colors for Irish clothing in the 19th century were blue, gray, and brown- not green, green, and green. Sorry folks.
Queen Victoria's stalwart Scottish manservant John Brown, who was never seen without his kilt. (Mumford Books)
Great Scots!
We have Scots in Michigan, except we call them Yoopers. Regional humor that maybe five people will get aside, Scotland's distinct clothing history runs pretty deep up until the 19th century. It seems after the failure of the Jacobite rebellion, traditional Scottish clothing on a day to day basis (with the exception of the kilt for the upper classes) legally and socially fell out of favor. Women wore the capes seen in London rather than their traditional arisaids (wrapped and belted woollen mantels), bowlers and driving caps were opted for instead of balmoral bonnets and tams, and highland dress became more of a ceremonial affair than common. Many Scottish politicians, officers (such as the famous John Brown), and wealthy elite did wear kilts frequently, however- particularly after tartan came into vogue among the wealthy in England during the middle of the century. Speaking of those most Scottish of garments...
If Nathan Fillion in a leather kilt is wrong, I don't want to be right. I've been waiting for an excuse to use this in blog post! (kiltmen)
On the kilt...
These days you can go to a convention (any convention) and see a number of men wearing kilts- particularly the stripped down, rugged utilikilt. In fact a "bump" on Dragon*Con TV this year jokingly said that the official uniform for twenty and thirty-something male nerds was a utilikilt and a "Han Shot First" t-shirt. What makes gents want to don what would otherwise be considered a lady's garment in mainstream society? Well... some like breeze, some like the ease of movement, and still more like the connotations of centuries of roguish rebellion associated with it. OR IS IT?
Now, some will argue, but I've consulted the Scottish Tartan Society (who should know kilt and tartan history moreso than ANYBODY) and they report that the
fitted
,
pleated
kilt as we know it didn't show up until 1792. Yes chickpeas, 1792. Now before I get a million angry emails or matter-of-factly posts remember: this is the modern fitted kilt. The kilt we know and encourage our significant others to wear has its roots in a woolen garment called a brat or plaid (Gaelic for blanket, since that's basically what it was) that was wrapped in a fairly elaborate manner around the wearer. By the late 16th century these mantles became so large and ungainly that someone got the bright idea to belt them, making a distinct "top" (draped) and bottom (wrapped) portions.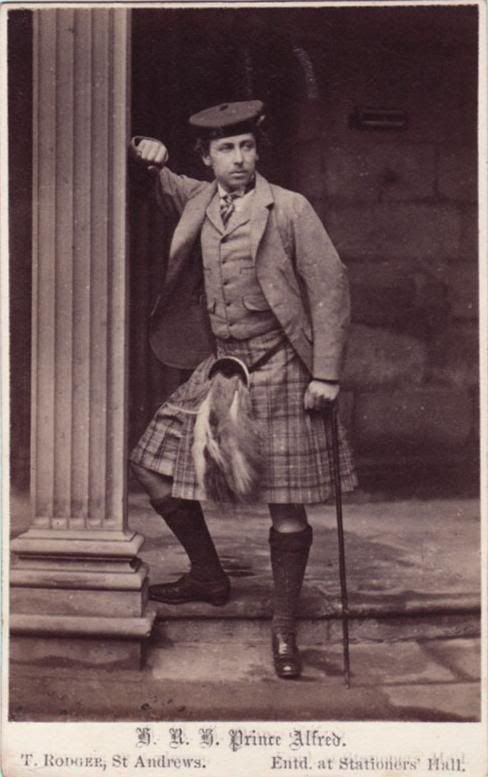 Prince Alfred, Duke of Edinburgh (1844-1900) in a fitted kilt. Yes please. (xmarksthescot)
In the 18th century people started doing away with the top part altogether (because wool is hot and cumbersome, let no one tell you otherwise) and just wore the belted plaid wrapped loosely around the waist. Some speculate that an English factory owner named Thomas Rawlinson made this innovation for his overheated employees, but art from the period shows the Scottish wearing these years before he made the claim. It didn't take long before someone tailored the kilt, added some side pleats for movement and Scotland was given its most famous fashion contribution.
The tailored kilt caught on with military regiments before the civilian population went crazy for it. The 19th century also started the standardization of clan tartans. Before that, patterns were as fixed as eyeliner at a screening of Schindler's List. Think of it like this: Before the Industrial Revolution in the late 18th and early 19th centuries, textiles had to be woven by hand. Do you think you could weave mass quantities (and reweave for the sake of future kilts) something as minute as the individually-plotted lines of a "clan" tartan? Hell, you wouldn't even be able to get the same color from batch to batch without SCIENCE!!!1! and its modern dyes.
Just more proof that Braveheart lied to you.
Pearly King ensemble, dated to be c. 1910 (liveauctioneers)
Costermongers and Pearly Queens
One of the more notable subcultures within England itself (with an equally noticeable form of folk dress) are the Cockneys. Most people associate Cockney with a sound rather than a look, since the cant dialect developed in Eastern London and hit its peak in the 19th century. I'll post links with more information about Cockney rhyming slang, since you could write a book about how it was developed, how it works, and the basic words but that's not what we're here to look at!
Cockney costermongers (fruit sellers) decorated their otherwise drab trousers with rows of penny-sized mother of pearl buttons along the seams and hems. In 1875 they caught the attention of a fellow named Henry Croft, who had lowly origins in a bleak Victorian orphanage. Croft dialed the fashion statement up to eleven and decorated an ENTIRE SUIT with pearl buttons, which effectively turned him into a local [eccentric] celebrity. Instead of using this notoriety to get chicks or free drinks like some people with sweet costumes, Croft started collecting money for the orphanage. Pretty soon he was raising money for all host of charitable causes and a small army of costermonger families took up his heavily buttoned mantle to do the same as Pearly Kings and Queens. The tradition continues to this day!
There was even a Pearly at Teslacon II this past year with landmarks of Madison, WI represented on her suit. (zanierlong flickr)
As you can see, there's a little more to these cultures of the British Isles than standard Victorian fashions and they might serve you well in steampunk. Here are a few ideas:
Not Your Typical UK Steam!
-
Costermonger clothing
decorated with a few rows of mother-of-pearl buttons is a great way to add visual interest to an otherwise drab outfit. It would also be fun to use steampunk imagery instead of the usual cityscapes or floral motifs (like using buttons to create an airship, moving cog, or engine motif).
-
A Welsh stovepipe hat
instead of traditional topper would make a quaint, but standout choice for a lady.
-
Kilts
are also highly steampunk-able, my personal favorites being the
"sport" kilts made by designer Anthony Canney
. They go fantastic with a grungy engineer's workshirt or the fine waistcoat and jacket of the elegant.
-
Glengarries, balmorals
(which are available in non-plaid varieties),
and tams
(ditto) also make fine headgear options for the top hat and bowlered out- just don't wear the tartan kind with your plaid kilt, it looks a dreadful eyesore.
-
Aran
and
Donegal sweater
s are durable, comfortable, and are great looks for working class outfits- plus they layer well.
Irish Famine by George Frederic Watts, a bleak portrait of Irish poverty painted in 1850 (Watts Gallery)
Helpful Links
-
More information on Lady Llanover
and her mission for a Welsh folk dress.
-Historic UK's
feature on Pearly Kings and Queens
.
-
The Dowling Family
has a fantastic and very informational page on the evolution of Irish dress over the centuries.
-Confused about the different accessories for kilts? Worry no longer, the Kilted Scot has you covered with
this handy diagram
!
-I'd be remiss if I didn't link to my friends at
Angus Harvey, kiltmaker
- crafters of custom, hand-made kilts!
-As far as I'm concerned, the best and most user friendly
guide to Cockney Rhyming Slang
. They even have a translator! (Note that CRS changes with the times, so what was hip slang twenty years ago is out or unintelligible now. If you want some help on London street slang that would have been appropriate for the 19th century,
check out Victorian London
).