A pleasantly purple wedding kaftan that would have been worn by a Jewish-Turkish bride (Magnes Collection)
Until recent years (when September and October have eclipsed it, according to a poll of wedding planners) June was considered
the
month in which to hold a wedding in several Western countries. Many cite the mild weather and preponderance of flora, while others point their fingers at pre-Christian traditions centered around the Summer Solstice- a time of great fertility and prosperity. Personally, this blogger blames the Victorians; who seemed to imprint as many modern traditions with weddings as they did funerals (and that, my friends, is a lot). In addition to its ancient ties and clement weather, June also would have offered great conditions to embark upon a honeymoon- the modern idea of which is an invention of the (early) 19th century.
It should be noted that Miss Kagashi hates weddings- or at least mainstream American ones. The blogger will spare you all her acid concerning these travesties of consumerism unless asked, however. So why focus an entire article on weddings and dresses worn by brides around the world if I detest them so? Much like headgear and etiquette, things were just so much more nifty back then and elsewhere. If these gorgeous pieces of art can make a believer out of me- who knows, I might get some drooling out of you.
This Jewish bride from Morocco's attire is anything but dull. Eugene Delacroix, 1832 (Hoocher)
One thing you might notice about this nuptial jaunt around the world is how colorful it is. With a few exceptions outside of the West, white was not the marriage color. In fact, for many cultures (particularly in Asia) white was a color of mourning or old age, not celebration or good fortune: things you want present at a wedding. This is why you see a lot of red, gold, blue, and even green on wedding dresses from around the world at this time. White became de rigeur (much like Christmas trees) with the ascension of Queen Victoria and her marriage to Prince Albert, in which she wore a diaphanous white gown to symbolize her purity. This caught on like indoor plumbing and next thing you know, everybody's getting married in white. How utterly boring.
Korea
Wedding hanbok from the collection of Linda Wrigglesworth (Londonkoreanlinks)
This bridal hanbok (the basic garment of Joseon Korea) was made and worn in the 19th century and decorated with actual gold plate. The rainbow sleeves (saekdong) are also traditional- a call to each of the five directions for their blessing. Part of the traditional Korean wedding ceremony is for the bride and husband to bow to one another- as that was originally the first time they would ever meet (thankfully this has gone the way of dial-up). For this custom the bride was flanked by bridesmaids because her wedding garb would be so heavy that she might require help to rise from her bow. While Western fashions have become popular, a lot of modern Korean girls like to get married in traditional dress- albeit not as overbearing as in prior generations, so the bow-guards' jobs are mostly symbolic.
Senegal
Woman in a recreation of a 19th century wedding gown at the International Day Festival in Dakar. (T.J. Haslam)
Senegal was under the colonial influence of the French from the mid-19th century to the mid-20th and while they were forced to adopt the fluffy confection of the European wedding gown- the native affluent elite gave it their own twist. The tall headdress, looseness of the top, and mix of textiles are all local clothing customs that still pervade gowns like this to this day. Another beautiful example of an indigenous population taking a "gift" of colonialism and making it their own.
One fun tradition that the French took with them to most of their colonies was that of the charivari- a loud and raucous procession made by family and friends of the newlywed couple. The band of well-wishers would make their way to the house of the couple, making all manner of racket on pots, pans, kettles, and washtubs until they were invited in for refreshment (punch and pie!). The charivari hit its pinnacle in the 18th and early 19th centuries, but is still done in parts of Quebec and Cajun country in the southern United States. I think it needs to come back, mainly because I want to harass my sister while banging on a mixing bowl demanding an omelet or something.
Bahrain
This traditional style of wedding outfit from the early 20th century (the dress itself though was made in the 1980s) is called a Thoub al-Nashl (gauzy overdress) and a Darr'ah (undergown). Made out of green silk chiffon, the thoub's sleeves are so massive that they can be draped up and over the head as a veil. How's that for multitasking? One would think, with those yards of hand-down metallic embroidery, isn't it a waste to wear it only once? Well, the Bahrainian people agree with you. A woman would wear her best thoub al-nashl many times throughout her life beside her wedding, like birthday and Eid celebrations.
Turkey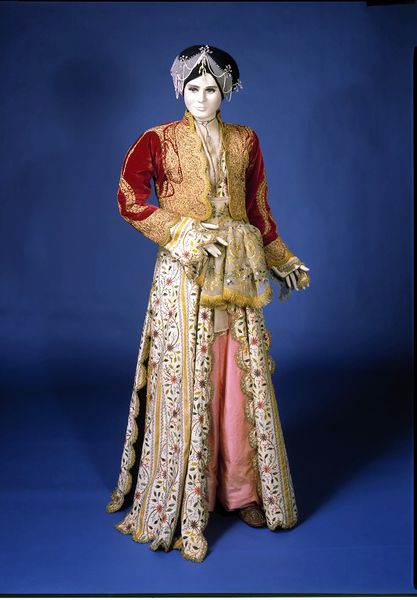 A full Turkish bridal ensemble from the 1900s (V & A Museum)
This outfit consists of a cropped velvet jacket, a fitted robe called an entari, and pink silk sirwal (trousers, remember those?) which are in essence very simple garments but thanks to painstaking metallic embroidery turn them into showpieces. Indeed, the clothes are so crusty with detailing that the V & A museum notes that it would have been difficult for the bride to move! (Personally I think this might have been an insurance policy against cold feet, but I'm a cynical thing...) One explanation for the sheer amount of bling in this ensemble is an old Ottoman tradition of family members and friends who approved of the marriage giving the bride golden tokens of encouragement that she would then proudly sew into her clothing.
A slightly less delightful tradition is the rather old-fashioned announcement that the bride was in fact a virgin in front of the guests, family, friends, and well... everybody. While this is very touching that any Ottoman groom worth his salt would be appalled at the thought of any man but he bonking his wife, it doesn't exactly help that he was allowed to sleep around as much as he liked before and after marriage... but hey, at least she has a gorgeous dress as consolation!
China
A 19th century Manchu-style wedding robe (Miller's Antiques)
As some of you may recall from our post exploring the
importance of color in various cultures
, the Chinese are very conscious of color and its symbolism. This is why most Chinese wedding dresses before the 20th century were red- the color of happiness and good fortune (in fact many modern Chinese brides opt to have a red dress to change into during the reception). Another aspect of this robe is the attempts to make it harmonious with the use of yin and yang iconography. The metallic designs depict large dragons (yang) surrounded by smaller phoenixes (yin) and peonies (yin, and also a symbol of longevity)- so even wearing the dress was an act of harmony and good luck.
Just in case a luck-infused dress wasn't enough, one of the pre-wedding customs was for a person called the "Good Luck Woman" to style the bride's hair while uttering encouraging, auspicious, and complimentary blessings. When my sister gets married this fall I might bribe the hairdresser to do this, everybody could do with a pep talk...
Greece
Wedding gown from Attica, found in the Benaki Museum (Caro Interiors)
I ask you all to look at the gown above. See those subtle, raised, glittering patterns? You guessed it, hand embroidery all in spun gold (which sadly is not available at Joann Fabrics...). Another feature is the silver headpiece, which while not uncommon wasn't standard since many Greek brides opted wear a garland of flowers atop their heads (which probably means that this outfit belongs to a wealthy lady indeed!). You might also notice something familiar that some of our other dresses lacked- a veil. The first recorded use of veils in bridal traditions actually go back to ancient Greece, where they obfuscated the bride's identity from gods and monsters that would otherwise harm her (or, in keeping with Greek deities, abduct her... let's face it).
Kazakhstan
A Kazakh bride in 1911- judging by the horse's pose the engagement was consensual (Sergei Ivanovich Borisov)
Sure, arranged marriages are a drag- but imagine being stolen by your bridegroom. Bride abduction was fairly common in Central Asia (and still happens occasionally) and could be as innocent as two sweethearts eloping to a total stranger making off your your daughter or sister. However, there were various steps insuring the safety and well-being of the girl and ultimately she could outright refuse the offer and petition her male family members to come and get her. There was nothing insuring said male family members wouldn't be irate or downright violent when they'd retrieve her, however.
If the parties agreed however, a Kazakh bride would wear a tall, steepled, bejeweled headdress called a saukele. This highly ornamented hat would be worn the entire first year of marriage and probably caused many a backache for a newlywed crawling out of her yurt.
Spain
Yes, this is a traditional Spanish wedding gown. And yes... I kind of want one. (Elegant Event Designs)
A
lot
of old-fashioned Roman Catholics were fond of a concept called memento mori- or the reminder that one of these days you were going become an ex-person. But the Spanish weren't so doom and gloom that they would make their brides wear
skull rosaries
or hair jewelry (seriously, Victorians were weird). Instead, they wore sumptuous black lace wedding gowns with matching veils called mantillas as a reminder that the marriage (and the love, one would hope) would last "'til death". Spanish brides also traditionally carried a small purse with them to the ceremony filled with 13 gold coins- a gift from her bridegroom that promised that he would support her in the future the best that he could.
The mantilla was affixed to the bride's hair with ornately
carved mantilla combs
- which are now
highly
collectible...
United States
This one's from the 1870s- I couldn't find one from the 1860s that struck my fancy (V & A)
I know what you're going to say- United States?!? What's exotic about that? Well, during the 1860s a trend amongst brides added a bit of color to the white gown that Victoria popularized at her wedding. As a show of support for the wounded and fallen during the Civil War (1861-1865) American brides opted
to wear purple wedding dresses
. And as many of you know, purple is the most steampunk color! Of course, a bride during this tumultuous time had to be grateful that she had a groom present at all, let alone a gown made with the newfangled anneline purple dyes.
I hope you enjoyed this bride-gawking jaunt around the world (which is by no means complete, I'm rather peeved that after 2 hours of searching I wasn't able to find an extant picture of an Indian bride- but worry not, we'll be discussing henna soon!) and some of those gorgeous gowns of yesteryear. If you find yourself to be wedded this June (or some time in the near future) I wish you the best of fortune and happiness (and that you weren't abducted from your yurt...)