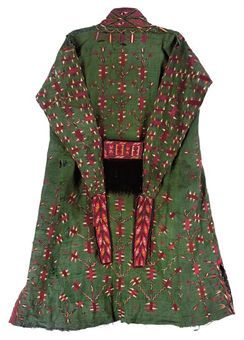 Turkish caftan 19th century (Alain Turong)
I know I'm due for a recipe or tutorial post, but I was feeling particularly clever tonight (also I just finished another illustration for the upcoming steampunk adventure novel by G.D. Falksen- Blood in the Skies). Instead of locking myself into my sewing room I've decided to instead tell you to "BE NOT BE AFRAID OF COLOR!".
I promise, my good readers, that this is not going to be a rant. Instead, it's an argument. They're really not the same thing,
just ask Monty Python
. I propose that the most steampunk color is purple.... don't look at me like that, I have my reasons!
A Singh boy's tunic- early 20th cent. V & A Museum.
First of all we consider what a steampunk world offers us in the way of continuity. One thing that everyone tends to agree on because of crazy submersible and dirigible contraptions, world travel is not only possible, but mundane. It might cost them a pretty penny, but there's nothing geographic keeping a small chimney sweep from Hammersmith from traveling to Ankara (for the International Chimneysweeps' Convention).
Secondly, we all agree that there's a technological boom going on. I mean, look up any definition of the genre that isn't derogatory and there's a consensus that technology in most aspects of life and society are going crazy right now, with steam, hydraulic, and clock mechanisms producing ships, computers, communication devices, advanced medicine, and weaponry. So then it'd extend to the clothing, right?
We Interrupt This Ra- Argument for the Actual Content of the Post
During the 19th century, unless you had a particular religious or political reason (i.e. Orthodox Jews, British judges, etc.) color was an okay thing. More than that, color was something aspired to. Even the Europeans, who are mistaken for being sober aficionados of drab grays and blacks went gaga for color! (Remember folks, the photographs are in black and white or sepia. In sepia tone you can't see that Oscar Wilde is wearing a
purple
velvet suit! Was every Victorian gentleman a veritable rainbow? No. But they certainly added bits of color to their wardrobe- particularly in cravats and waistcoats.
Around the world, color was the way to attract attention, celebrate culture, and advertise wealth. After all, if you could afford to continue to keep your nice clothes their vibrant color, the you were certainly an affluent individual. Previously to the 19th century, however, dyes were made using natural substances like madder for red, indigo for blue, and onion skin for yellow. Many cultures that didn't have continuous exposure to Europeans kept these dyes for much longer, but even with synthetic dyes the hunger for color didn't vanish. It just meant you could get previously impossible, permanent colors (not saying the dyes themselves were safe, but hey, at least the world has magenta now!)
Part of a 19th cent. saree from Varanasi, India. (Marla Mallett)
Around the World in 80 Shades
India is a sea of color- just take a look at a marketplace! But in clothing, different colors have distinct regional and spiritual symbolism. For example, blue is associated with the energetic Hindu god, Krishna (possibly because the fellow's skin is blue) while green is popular amongst Indian Muslims as the color of Allah because of its connotations with growth and renewal. Red is the vibrant color of life and celebration (also possibly stemming from the Hindu belief in the creative and destructive power of fire) which is why brides tend to wear it. If you travel to Southern India, you'll see plenty of people wearing pastels, whereas in the North bolder primary hues are traditional. It's wearing an absence of color such as black or white that's noticeable- as that usually signals that an individual is in mourning.
In nearby China, you may notice that red is highly favored in art and design. This is because red is considered a lucky color- which is why it's worn a lot during celebrations like New Year's, in an effort to attract it. Yellow was a signal of royalty- in fact before the Revolution only members of the Imperial Family could wear it (this was also the case in Malaysia). Colors are also considered yin or yang (though there are properties of both in all things) and are traditionally believed to impact the wearer physically, mentally, and spiritually by shifting them one way or the other. Yin is cold, feminine, wet, and soft whereas yang is hot, masculine, dry, and hard.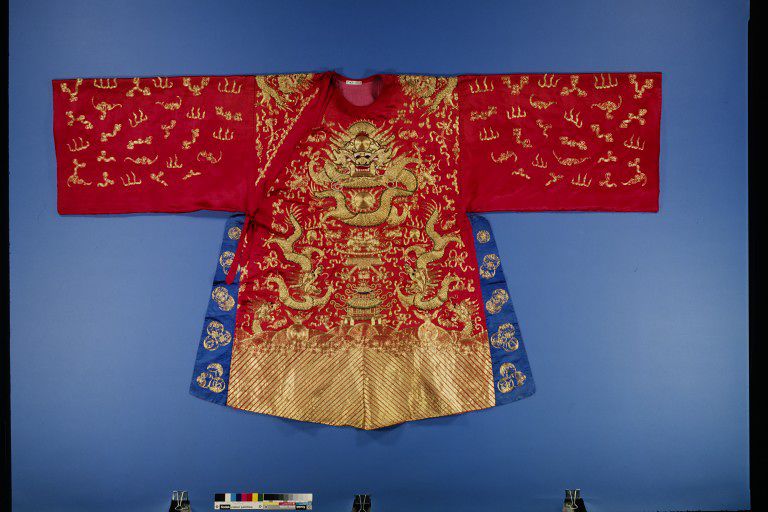 This 19th century Chinese theatre costume is very yang, with its red and gold colors and dragon motif. (V & A Museum)
Blue is also a religious color in the Middle East (and elsewhere) with its ties to Abrahamic religions. In Christianity the Virgin Mary wears a blue shawl (traditionally, though history would doubt as it was an expensive dye at the time) while in Islam blue is considered the color of heaven and used to adorn mosques, such as the beautiful dome of the
Bibi Kanym mosque
in Samarkand. Judaism probably has the closest relationship with blue in a holy tradition called tekhelet- the name of a particular azure dye used to color the threads of the tzitzit (prayer shawl).
In Africa, there are about as many color interpretations as there are cultures, but green, blue, and red seem to be popular throughout the continent. Red in particular is an important color to the Masai, who regard it as the color of life and use it to dye their clothes and cake their hairstyles with reddish clay. Just like in China, certain tribes reserve gold and yellow for the ruling class or the wealthy. In cities like Zanzibar or Mombasa though, color was an indicator on the vibrant wealth of the city and embraced by its citizens while white was considered a mark of slavery.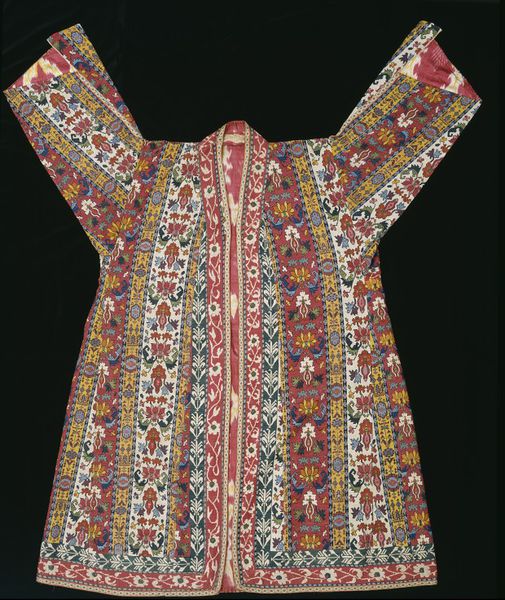 A very colorful cross-stitch embroidered coat from Uzbekistan (V & A)
Station and Symbolism
Around the world, colored garments were used to label certain individuals in a society- such as American policemen wearing blue today. In Buddhism, different sects and denominations dye their robes a particular color: Blue and black in Japan, orange in Thailand, and red in Tibet. (On a similar note I'd like to clean up a particular piece of misinformation. While white is traditionally the color for prayer clothing for Muslim men, Muslim women around the world are under no restriction for the colors of their clothes. Even in Iran, where modest dress and hijabs are compulsory, women wear vibrant, even bright colors. In the words of a customer of mine "just because I'm a Muslim doesn't mean my husband or anybody forces me to wear black!")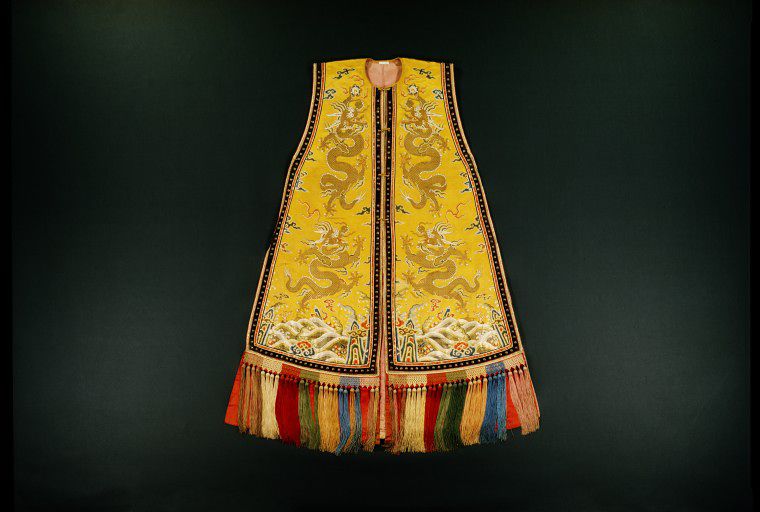 A courtier's vest from mid-1800s China, note the yellow color. (V & A Museum)
Up until the 1920s, wearing pink was a boys' thing... seriously! Before the 20s, the preferred color for newborn and baby boys was pink, because it was a toned down version of the masculine color red. Blue was reserved for girls!
In Victorian England, the standard mourning color was black until the stage of half-mourning is reached (six months to a year, depending on your relationship to the deceased), then colors like dark green and purple could be slowly introduced into the wardrobe. Speaking of mourning...
While I'm not saying to research every color in every culture known to man, it is important to know certain color types like... say.. the color of mourning. In the West this is considered to be black, generally (look into Victorian mourning fashion standards, they're fascinating) while elsewhere the colors can be anything from white (much of Eastern Asia: Japan, China, Korea), yellow (Egypt), or even purple (Thailand)!
So is she A. In mourning. B. Royalty or C. Belle from Beauty and the Beast?
While I know that these handy tidbits about color and cultures doesn't hold a lot of sway with the majority of steampunks reading this article (i.e. the ones threatened by folks who want some historical accuracy or the ones who just think brown is cool), there are benefits to injecting color into your steampunk costume- global or not.
-
It can help define a look.
One of the first things I learned in costumer school (that I never went to...) is that colors are archetypal depending on where you are. For example, in the West the good guys wear primary colors while the bad guys wear black (and the antiheroes wear... well I guess whatever the hell they want). Older characters wear muted colors while younger ones wear brighter ones. Want to make yourself into more of a villain? Sure, wear black- but make it striking with gold, green, red, or silver (J.K. Rowling wasn't being incidental about her color choices for the different houses at Hogwarts). I will do the gauche thing and use me as an example:
Tell me folks- is this the color scheme of a noble and good-hearted individual? (By Black Hole Photog)
-
It can get you noticed.
Have you ever been to a steampunk convention, meetup, or event? There is a LOT of brown, green, gray, and black going on. There are a host of reasons why, I admit. To some folks these colors make sense in an industrial, ragtag world. To others, they think it looks cool. While some people actually feel pressured to wear these colors lest their peers not consider them "steampunk enough".
I'm not going to tell you which colors are steampunk or not- but I can tell you that if you integrate some color into your outfit (a blue scarf there, some pink gloves here, perhaps a flourish of yellow or orange feathers on your bowler hat) you are a LOT more likely to be noticed in a crowd by both individuals and cameras alike. It's the same reason why playing with patterns and textures builds a more interesting and "realistic" outfit.
-
Better photos.
While all black or all browns can look very striking, some of the best steampunk photographs I've seen are of outfits that have what I call a 'popper', or a piece or garment that's a contrasting color that keeps the eye moving around and presents a more complete look. It also makes for a better picture in black and white or sepia because it presents better contrast.
So as you can see, folks- color is nothing to be frightened about, whether you're dabbling in multicultural steampunk or more Western European styles. Except for acid green, they don't bite.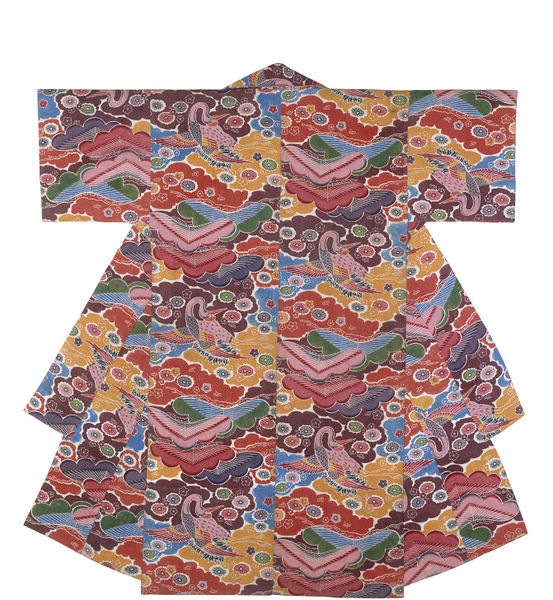 MY EYES! Yes, it's from the 19th century, Okinawa, to be precise. (V & A)
More on color!
-
G.D. Falksen wrote an article
a couple of years ago about the use of color in Victorian dress as an inspiration for steampunks.
-
Sensational Color
has a bevy of travelogs about colors and their significance in different regions.
If You've Stuck Around this Long...
So why do I think purple is the most steampunk color? It's social, economic, and technical. In the 19th century synthetic dyes were first introduced to the Western world, which meant that for the first time just about anyone could afford bright, vibrant colors that weren't affected by things like dyestuff economics. Whereas in the past, pure, deep purple was one of the most expensive dyes to manufacture (hence why for centuries only royalty and the very chi-chi were allowed to wear it) now that clerk down the street could afford it- all because of.... everyone together with me.
I'll wait 'til you're ready....
SCIENCE!!!!! That's why purple is steampunk to me. It was a treasured commodity, only in the hands of the rich, then suddenly because of a boost in cutting-edge technology it was available in never before seen incarnations like fuchsia for the masses.
Either a pretty purple dress or STEAMPUNK AS HELL.