Look familiar? (Motoring Pictures)
All right, time to clear some air. Less than a month ago a blogger who attended Wild Wild West Con in Arizona made a (probably unintentionally) controversial post about the
"Top 7 Overdone Steampunk Fashions " at the con
. What was intended as a piece of snark to poke fun at some costuming stereotypes exploded into a flamefest of people accusing the blogger of being elitist, ignorant of people who either can't sew or afford a fancy outfit, and trying to restrict others' creativity.
I'm not going to lie, I stand with her. I'm not doing this to be snotty or because I'm a professional costumer (so therefore I don't understand what it's like to not have a lot of cash or the resources/skill set to make an outfit) but because steampunk is supposed to be a creative genre. You're welcome to wear whatever the hell you want. I don't care. Wear goggles on your goggles, because as much as I detest them and they pervade at least 65% of steampunk outfits (or somewhere around there), I can't take away your right to wear them. However, I beg for you just to look at OTHER possibilities (because that's what I do on this blog, doncha know) to broaden your horizons, if not for the sake of newbies. Yes, newbies. I have a few come up to me at every event and ask if that person who said that their outfit wasn't "steampunk enough" because it lacked goggles, a top hat, or a nerf gun was right. And I'm sorry, that doesn't sound particularly creative or welcoming to me.
The last thing we need are people being hindered creatively because they feel they need "status symbols" to belong
.
One of Ms. D'Andrea's points concerned that most Victorian and steampunk of archetypal fashion- the top hat. We see them everywhere. Convention floors are veritable seas of top hats in either black, gray, or brown- from the tiniest doll hat with feathers glued on it to the standard felt behemoth that a lot of vendors have in stock. Do I like top hats? Certainly. Am I sick of seeing them? Sure am. There are legions of hats that fell from popularity and memory as the 20th century progressed, so why don't we look at a few? Should you find yourself enamored, a few links will be provided of where you can get your own- affordably!
I did omit a few notable non-toppers from the list such as bowlers, cabby/driver caps, shakos, and pith helmets because I see them fairly often and I feel people are aware of their existence. In no particular order, here are:
10. The Homburg
Poor Homburg. I think the reason why this hat, which is one step below the top hat in Victorian formality, is forgotten is because of its similarity to a more modern piece of headgear- the fedora. Homburgs tend to be rounder and curvier in the brim than fedoras though, and predate them by at least fifty years in popularity. It was primarily worn as a semi-formal accessory to suits, but it would look great on a gentleman, a spunky female adventurer, or even a gunfighter.
Are you sold?
Get yourself a basic homburg in
chocolate brown or black for just $27
9. Beret
An Argentine gaucho in a beret- not so sissy now, are they?
Yes, I know that you see this and you think- FRANCE! The beret has been popular in some form or another for centuries and across the Western world. Basque shepards and Argentine gauchos wore them as well as military forces as a fatigue/undress cap. They look good on either men or women and because of their cheapness can be a good starter hat for little steampunks. Dress them up with medals, badges, pins, and even sprigs of feathers!
Are you sold?
My favorite place to get berets are from marching band supply sites, as they're typically worn by tuba players. Marching world offers them at
every color of the rainbow for $5.50
!
8. Sedge Hats
A Japanese laborer wearing a sedge or conical hat (imagestate)
If you're looking for something with a little more of an Eastern flavor, why not try a sedge hat? This conical hat has been used by peoples in East and Southeast Asia for centuries to keep sun and rain off of their faces when outdoors. Rice straw and bamboo are often used, and can be stitched with multicolored embroidery. They can be found relatively cheaply too, but do yourself a favor and get a slightly more expensive model than the party store variety- you'll get a much better quality hat. As far as steampunk possibilities? Clad it in brass! Cover it in a gauzy veil and use it as a lady's motoring hat! Stick an interesting finial on the top point! Or just wear it as is for a more "mysterious traveler" look.
Are you sold?
These sedge hats are only $12
, but you can probably find a better-quality one if your city has a Chinatown.
This thatched version is $29
.
7. Kepi
A trove of French kepis (wikipedia)
Kepis were one of the most-used types of military headgear during the 19th and 20th centuries and continue to be used to this day. From the soft kepi used during the American Civil War to the hard kepi (or Charles de Gaulle), they're very versatile hats that can be used in a variety of looks. Military kepis are easy to find, but a few vendors like Blonde Swan make them out of leather for a more everyday look. Insignia, feathers, cogs, or goggles can all find themselves comfortable on a kepi, which can be perched jauntily at the side if desired.
Are you sold?
Vintage French-style kepis can be found on ebay and militaria sellers for fairly cheap,
like this one on etsy for only $30
! (
Or make your own
)
6. Fez/Smoking Cap
A 19th century smoking cap (Windows on Warwickshire)
There is a lot of fez love on this blog, and it's nice that I'm starting to see it and it's diminutive cousin, the smoking cap at a lot more steampunk functions. Fezzes were made popular in the 19th century by Ottoman Sultan Mahmud II, who was looking for a more modern staple hat than the old turban. They turned out to be very user-friendly; worn by civilians, military, and officials alike. Smoking caps are similar to fezzes in that they're cylindrical and often decorated with a tassel, though these often ornate accessories are softer and shorter than a standard fez. They were designed to be worn with smoking jackets and protect the wearer's clothes and hair from pipe or cigar smoke. Both are unisex, classy, and can be worn with an assortment of looks. As an alternative to a tiny top hat, a short fez or smoking cap would look great pinned into a lady's hair!
Are you sold?
Village Hat Shop offers a
basic fez for $17
Alchemy Arts on Etsy makes
smoking caps all for around $42
. Alternatively this blogger also makes hats on commission... just sayin.
Tutorial
Since I don't post it enough, it seems,
my fez tutorial
.
5. Chambergo/Slouch Hat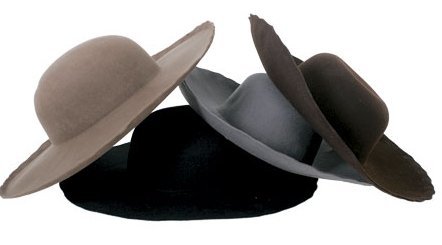 A pile of felt chambergos
This is one of the most basic and universal styles of hat- the slouch or chambergo (you can often find this style called a 'blank' by hatters). Typically made of wool, they were designed as an all-purpose, wide (often floppy) brimmed hat to keep traveler's heads dry in the rain or the sun off of their faces. Argentine gauchos wore them as their hat of choice for riding across the plains Simple, comfortable, and versatile as hell! Pin up a side for a military or Wild West look or beat them to hell! Add decorative bands around the crown or feathers, ammo belts, or veils! I even wear one of these on rainy days: the wool keeps my head dry and my face pale during the summer.
Are you sold?
Crazy crow offers wool blanks in
3 colors for only $19
!
4. Boss of the Plains
Two fellows wearing Bosses in the 1870s (The Last Best West)
The long-forgotten brother of the cowboy and ten-gallon hat in the Old West. The Stetson Hat Company developed the Boss in the mid-1800s to be the go-to hat for the Westward settler, ranchhand, or prospector with its wide brim and waterproof properties. Unlike its brothers, it doesn't have a crease in the center of the crown, giving it a very distinctive (and I think less hokey) look. Towards the late 19th century, the hat became more creased and the brim angled, leaving this lovely hat lost to the ages. Rough and tumble outfits would look great with one, such as an airship pirate or desperado.
Are you sold?
A Stetson brand hat costs a fortune, but Resistol Hats makes an
open-crowned cowboy hat like the boss for under $100
.
3. Glengarry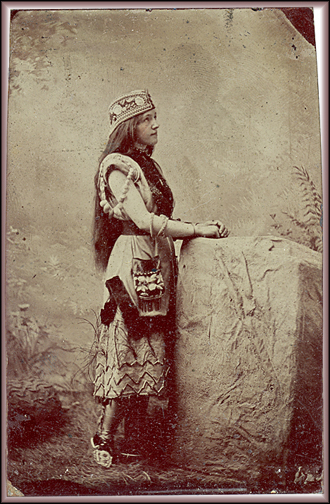 An Iroquois woman wearing a glengarry-type hat. (Gerry Biron)
Another piece of folk dress that spread like crabgrass thanks to the British Empire. These "boat-shaped" hats originate in Scotland during the 18th century for units of Scottish Highlanders and caught on amongst many Commonwealth regiments around the world. The Iroquois peoples of North America would embroider them with colorful, traditional designs. They look very sharp, whether with a traditional kilt (tartan or otherwise), a military uniform, or a cute skirt and vest.
Are you sold?
Blonde Swan makes an
excellent-quality suede Glengarry in a variety of colors
, perfect for any ensemble (and only $75)
2. Tyrolean Hat
Self Portrait in a Tyrolean Hat by Lovis Corinthe
Jawohl! This hat is a standard of regional German, Austrian, and Swiss folk dress, where it was worn locally well into the 19th century. Nowadays it's synonymous of mountain climbers and beer halls, but I think this little felt cap deserves its due! With its robust look, it would look great with lower and working-class costumes that require a little more interest than a bowler or cabby hat. They look cute perched on women's heads as well. Also come September you have something to wear to Oktoberfest.
Are you sold?
Village Hat Shop sells a
cute Tyrollean for only $28
!
Or check out Amazon's
Tyrollean for $25
.
1. Ushanka
Russian troops wearing ushankas in 1917
Remember our
chat on Imperial Russia
? The ushanka came into circulation with the Russian military after the Revolution, but the basic hat's been around for centuries and a favorite of cold climate-dwelling folks. It's warm, fuzzy, and the look is adjustable with the various flaps (which you can hide things in!). Since a lot of modern militaries use them, they can be found very cheaply on surplus websites.
Are you sold?
A Soviet surplus ushanka (brand new!) will
only set you back $5 here
, and all you have to do is pry off the insignia!
Or get a rabbit fur model for
$65 from the Russian Shoppe
.
I hope this list gives you some ideas for more hat possibilities other than that typical topper. If it doesn't- ah well, at least we've indulged in some hat lust together. I might do more of these Mix it up articles, let me know if you liked it!