Miss Kagashi lounging at Dragon*Con 2010 in her sirwal. Photo by Anna Fischer.
There is a world of comfy trousers out there and today I'm going to show you how to make a pair. Sirwal have been kicking around (HAH, I make myself laugh...) the Middle East for over a thousand years in some form or another, and can you really blame them? They're easy to make, conserve fabric fairly well, don't require very much tailoring, look marvelous, can be made in a variety of fabrics to suit their purpose, and (most importantly) are damned cozy. In addition, they're unisex (not that that matters in steampunk anyway), so they can be used in a variety of outfits.
They work well for military considering their zouave ties (just make them in a stiffer fabric), they can be worn by ladies under their dresses as an alternative to bloomers (if made full enough, they look identical to a skirt- a skirt that can't fly up and give everyone a free show), they can be dressed up in silks or taffeta or dressed down in simple cotton or linen. Airship pirates: looking for an alternative? These add a well-traveled feel to an outfit. Furthermore, people of any size or shape can wear them- this isn't just fashion for the skinny or female! If made full or stiff enough, they can even take the place of a petticoat under knee or tea-length skirts.
French zouaves- don't they look like they're enjoying their spiffy trousers?
Thanks to the internet, there are a variety of historically-accurate patterns and techniques available on how to create these pieces of Middle-Eastern joy... so I've done a little research and combined two approaches into one, fairly easy one that will give you the right shape without being needlessly complicated (no offense to geometry, but there's a reason I became a history major). Sadly this project does require a sewing machine, but these days all you have to do is put a shoutout on facebook and I'm sure someone you know will loan you theirs for an afternoon.
Now: I like to use cuffs and a fixed waistband for mine- I find that it makes things neater and you don't have to make an allowance for a drawstring, also these trousers are a gift and meant to resemble the ones French and Algerian zouaves wore. Also, cuffs make it easier to tuck them into boots or spats, should you be inclined. However, if you MUST use elastic, here are some easy directions on how to
place it into a casing
.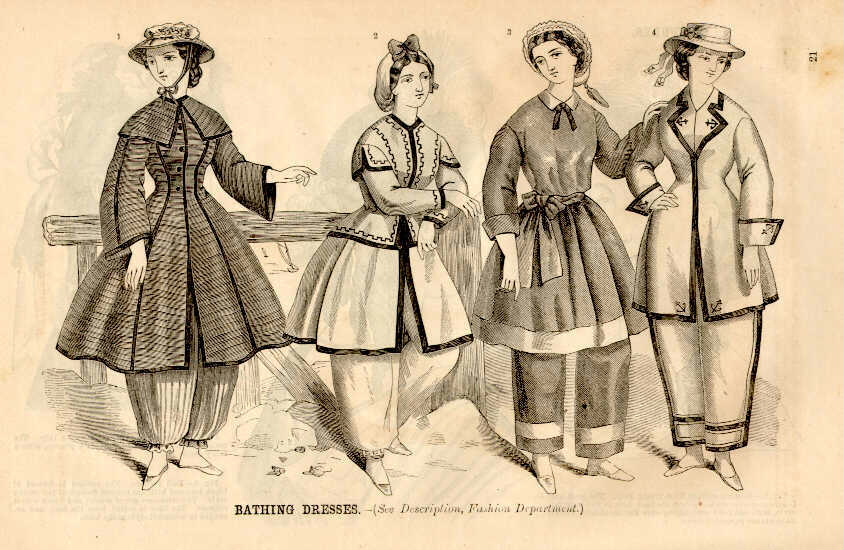 Turkish trousers also became popular in the West with dress reformers and bathing costumes.
What you'll need:
Fabric tips:
Typically sirwal were made of silk, cotton, or wool- but this is steampunk, so if you can sew it, it can be sirwal. Personally I find twill, canvas, homespun (cottons that are woven, rather than printed, in a variety of plaids and stripes), silk, linen, lightweight suitings, and drapery fabrics make the best (and coziest) trousers. Just make sure that whatever you're using suits your needs; if you're bellydancing at a Renaissance Festival or going to outdoor events, a fabric with natural fiber would be most comfortable and easiest to wash. However, if you're wearing these to conventions or portraying a more fanciful character, then polyester or shinier fabrics could be used.
However, if this is your first go at turkish trouser-making, then I would recommend twill, a cotton suiting, linen, or a stiff satin- since they're going to behave better for you.
Hardware:
-Sewing machine, any variety (although if you want to use functional buttons for your cuffs, you will need a buttonhold function), outfitted with a medium-weight needle.
-A straight edge (or ruler)
-Measuring tape
-Pins (I like the kind with brightly colored heads- I find it leads to better domestic tranquility should you lose one. There's nothing worse than an errant pin in the foot.)
-A marking pen, chalk, or soft artist's pencil
- An iron. Things will come out crisper and cleaner if you give your seams a steam before you put the garment together.
Software:
- 3-4 yards of the fabric of your choice.
- 1/3 of a yard of contrasting (or matching) fabric for cuffs and waistband. Corduroy and velveteen are my personal favorites.
- Thread to match
-4-8 buttons for cuff closure (optional)
-Hooks and eyes for waistband closure.
The Pattern:
Rectangles, baby!
Here are the measurements you'll need:
- Waist
- Desired length of the trousers (Turkish and Middle Eastern trousers tend to be longer, reaching the ankle or lower calf. North African trousers tended to reach mid-calf or the knee.)
- Ankle (or knee, if you're making them shorter)
MS Paint, for the win!
As you can see, there's very little waste fabric and very little tailoring involved. I'm using a tan twill cotton and poly blend that I found in the red tag bin and a nice soft blue suede for the cuffs and waistband.
This is best way to explain how you go about making your pattern pieces. It's easiest to just lay your fabric out with a straight edge (I like this right angle right here- although T-squares are marvelous!), your measurements, and a marking tool of some sort. Queasy sorts can use a disappearing or wash-out pen (available at any fabric or craft store).
My pattern pieces all laid out.
Sewing Them Together:
-Take your triangular pieces (henceforth called A) folded rectangle (B) and sew them together length-wise (so that your B piece and flanked on either side by a rectangle).
I took the time to finish the raw edges of my seams off with a technique called flat-felling, which is entirely optional (these are a gift, so I wanted them to be nice and machine washable).
A and B are all machined and flat-felled together
-
Your A's and B's should be sewn together: these are the two legs of your trousers. Next you're going to sew the shorter lengths (above the slant) of your A's together. Basically when you're done you will have a massive skirt.
Follow the orange line! Do this on both sides.
-Next we'll be forming the legs of the pants. Sew along the slants of pattern piece A. It's my recommendation because this ALWAYS happens is to sew this seam twice. I've sewn enough Turkish trousers to know that while it may seem that your crotch seam is miles away, the second you climb a tree or go down a bouncy slide (yes, this has happened) that it can and WILL split. So, sew it twice, finish it nice (hey, that's a pretty good motto...).
Seriously though, sew it twice.
-
Now that the main construction is over, I would recommend a tea/coffee/cocoa/soul break! Pat yourself on the back and marvel at the circus tent you have created. Why, with your trousers you could end homelessness! But we're not done yet....
-
If you wanted to use drawstrings instead of the waistband or cuffs, that's easily done: just turn up and sew a 1 inch hem around the bottom of each pant leg and along the waist. Then cut a small hole and thread a piece of cord, ribbon, or lacing through. My only issue with drawstrings are that they don't prevent the garment from riding down like waistbands do... also they come undone. There's nothing more embarrassing than being in the middle of a performance (say, hypothetically, a swordfight) and find that your trousers are falling down because the drawstring popped or came untied. Still, drawstrings can have their advantages, like if your weight fluctuates often.
-
Take your cuffs and waistband and fold them over lengthwise (hot dog way, as my teacher told me in kindergarten) so that it's inside-out. Then sew around two of the open sides. Turn it right-side out though the last open side, then fold the raw edges inward and sew over it. Repeat on the other two.
The finished and turned cuffs and waistband. Now would be a good time to iron
-
Now for the fun part (ohgod). You'll probably want to sit down in a comfy chair for this. The cuffs are easy enough, so start with them first. Place your cuff inside of your pant leg and pin it where you want them to open. Then, using pins, create folds to draw up the remaining fabric- this is called pleating. If you've never pleated before, here's a
helpful video
.
Repeat for the other cuff. For the waistband, where the two ends of the band meet, leave a bit of fabric loose- that way you can get into your trousers if you have any hint of hips. Try them on before you sew down the waistband. You might also need to use
box pleats
to make sure that ALL of the fabric (we're talking 90-120 inches here!) gets safely inside of the band. See how they fit, then sew them all down.
Helpful hint:
Check your progress often when you're sewing the cuffs and waistband because they have a tendency to get caught on themselves or the machine.
I ended up redoing this and put in box pleats instead. It's all right, "How I Met Your Mother" was on.
-
And there you are: a pair of Turkish Trousers/sirwal. All they need are some buttons, or hook and eye closures and they'll be ready for wearing at your next steampunk function!
Think of the adventures one could have in these pants! Wait.. no, that sounded wrong...
Note for wearing these behemoths:
Ladies, you'll find that drop-waisted trousers are comfy to wear sitting down, but walking
might
feel otherwise if you have healthy-sized thighs. If you're going to be walking around a lot, I would recommend a pair of tights or leggings to go underneath your sirwal.
Other fun possibilities:
- Make your cuffs longer or shorter- you could even sew a pre-existing pair of gaiters to them and have a combination garment.
- Leave the pantlegs ungathered and you'll have something similar to Japanese hakama.
- Make tiny pairs for your pet ferrets and force them to become the most feared zouave unit in the known world!