Fresh and straight-forward: what you can expect inside Mayan Cuisine.
Once upon a time there were some people called the Maya. Between 2000 B.C.E. and 900 C.E. they built a host of wondrous cities, pyramids, and temples, only to go into decline and eventual elimination at the hands of the conquistadors in the 16th century.
.... except, that wasn't the end of the story. When most people think about the Maya, they only consider those human-sacrificing, doomsday-prophesying, pyramid-building astrologers who left scores of ruins in the Mexican forests. However Maya culture (particularly their language) has lived on for centuries in rural parts of Mexico and Guatamala. In fact many of the people guarding the archaeological sites of Maya cities such as Copan and Palenque are often descendants of the ones who built them.
Maya cooking is a similar story to that of Mexican cooking: a mix of seemingly opposing cuisines (Spanish, Carribbean, French, American, and Maya) blending together with the backbone of local ingredients. In
Mayan Cuisine: Recipes From the Yucatan Region
by Daniel Hoyer, this relationship of traditional tribal fare and foreign influences is explored in a bevy of dishes that serve as much as cultural record as much as palate pleasers. As much as Maya cuisine is a fusion-based one, there are many dishes that would have been recognizable to the natives of centuries ago- such as Atole and Pinole (corn-based beverages) and Kol (a traditional gravy-like sauce served atop tamales). However, there are also contemporary dishes that reflect the 19th and 20th century influxes of people from Germany to Lebanon.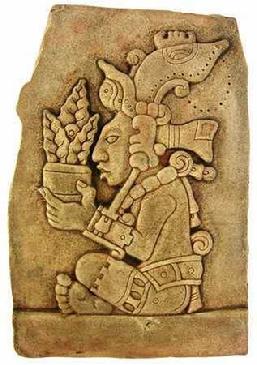 Yum Kaaz, the ancient Maya god of corn.
New to Mexican AND Maya cooking? Don't worry, Hoyer includes an appendix at the front of the book with the instructions on various cooking techniques. On top of this, all of the recipes start at a basic level- then add. There's an entire section on how to make a basic tamale first before Hoyer launches into a collection of regional variations. Furthermore through Hoyer's procedures and the natural simplicity of this regional cuisine, you really feel like you CAN cook these recipes.
If you're at all interested in exploring Maya culture, Yucatan cookery, or just looking for something interesting to serve at your next steampunk gathering, I would highly recommend this book- particularly for the summer months. Still on the fence? You're in luck! Next month, the Steamer's Trunk will be trying out Hoyer's recipe for flan- which I thought would be a great idea for Valentines day (share you flan with someone special or DELIGHT IN NOT HAVING TO, MWAHA!).