Merhaba!
For my first "Clothing/Costumes You'll Love" post, I decided to tread upon familiar ground for me and cover the costuming of the Ottoman Empire. For this particular post I am going to focus on Turkey, since we already have a lot to cover in that department- but never fear, the regional attire of the Caspian, Black Sea, North Africa, and the Caucuses will be getting their very own treatments (because Holy Wah that's a lot of color- seriously, we will all go blind).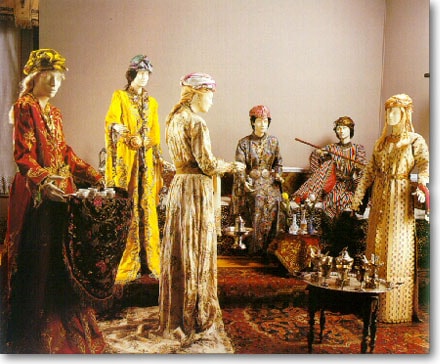 Read on, intrepid voyagers, of grand textiles, "Turkish trousers", and some very impressive moustaches...
The epicenter of fashion modes in the Ottoman empire was naturally Istanbul (Not Constantinople- SING IT!) and set by the court of the Sultan. Silks from the beyond the empire were imported to make lavish outfits for the elite, although the Ottoman's themselves have quite a culture of elaborate textile work. In some textiles the ornate patterns will repeat only once down the length of the garments.
A 19th century piece of Ottoman textile- appliqued with green velvet.
It was often said that there was no color that a fashionable lady in Istanbul wouldn't wear and that massed all together they looked quite garish.
Nobility aside, traditional Ottoman clothing can be broken down into a few simple garments:
Gomlek
- or undergown. A shirt or slip worn underneath all of the layers, often of a fine cotton or silk.
Caftan
- or robe. Caftans were often colorful with contrasting weights, linings, and trimmings so that they could be layered for various looks. Though unisex, women would often have them tailored close to their bodies.
Sirwal
- Or trousers. These are the fun ones. Sirwal, sirval, or commonly referred to as "turkish trousers" are a garment essentially constructed of two massive rectangles. Yardage can vary in size between 3 and 6 yards- some sources even hinting to millets and sultans having 10 yard pairs... although this lavishness (for men) seems to have staved off in the age of steam with the introduction of more western modes of dress.
Jackets
- Thankfully after the 18th century we started seeing these on both genders. Some Ottoman jackets are beautiful works of art, made of velvets and silks, often embroidered or appliqued with fantastical designs. They often finished just above the natural waist and included sleeves with decorative cut-aways to show off the layers underneath. Vests were often constructed and decorated in a similar manner.
Fez
- It's the Ottoman empire, how can I not talk about them, they're so iconic! Well, first of all- fezzes are cool. Second of all, they rose in popularity during this period, particularly amongst the military set of gentlemen- which were then brought back in abundance to Europe by travelers. They were also popular as a working man's hat and can be seen in many extant photographs. Fezzes are extraordinarily easy to make, so stay tuned in the coming weeks for a tutorial on how to make one of your own!
It should also be noted that during this period there was a lot of culture-swapping going on. While the Ottoman empire was trying to emulate the West (post-Crimea), which was in the heat of industrialization and empire-building, Western Europeans were absolutely besotted with "Turkish" dress. This is evident in the number of portraits gentry of the period had painted of themselves in "Turkish costume", including my galpal Lady Wortley Montagu, here:
You too, can look this pimpin'.
Ordinary Ottomans naturally had clothing made of less expensive materials (usually cotton or woolens) and less extensive decoration. The cut also tended to be a little more minimalistic... since you know, they actually had to work. Often times these clothes still had pops of color on them and included the use of cloth gaiters (which are just filled with possibilities). The further away from Istanbul and the other major cities however, the more fashion would be influenced by regional culture, such as embroidered blouses in the Carpathians or trimmed with fur in the mountainous regions.
On this episode of Silk Road Truckers....
Why would it be fun for you to emulate an Ottoman? Here are my top 5 reasons:
5.
Ottoman clothing is very easy to make, as it is based off of pattern pieces made from rectangles, making cutting and constructing them a breeze.
4.
The clothing was often constructed from layers of cotton or other natural fiber (although modern fabrics could look awfully swank), making them comfortable to wear during outdoor or warm-weather events.
3.
Due to the amount of contact with the west, traditional European garments could be easily layered with Ottoman ones to create an interesting look with great depth.
2.
The ornamentation looks fabulous- from appliques, to trim, to rows of buttons, to the very fabric itself, the clothing is truly a work of art.
1.
Ladies- no corsets. Although you could certainly layer one on (or do an adapted cincher belt like I do), you have the option to look fabulous without lacing yourself in. To top it all off, the layers of soft fabric and just enough flairing at the waist makes these garments flattering on women of multiple sizes.
So, how can you emulate those Ostentatious Ottomans in your steampunk ensemble? Here are a few ideas:
- Turkish trousers. Whether tucked into boots, worn with more traditional flats, layered over, or even totally covered up and used as bloomers- they're simple to make, comfortable to wear, and add so much flair.
- Cloth gaiters, particularly in conjunction with said trousers.
- Ottoman jackets and vests layered with other attire.
- Fezzes (because fezzes are cool)
- Metalwork belts (which not only add a cool, metallic edge, but also look very pretty. The Ottomans were famous for the work done on their belts).
- Turbans and similar headwraps.
A few photos:
A palace guard- late 19th century. We think there's a wire armature holding up that 'stache.
Traditional wedding outfit from Ankara, Turkey
A heavily embroidered jacket (velvet)- including 'cutaways'. The sleeves are buttoned on (handy, eh?).
Enver Pasha, the Turkish Minister of War (and owner of an impressive 'stache).
Turkish coffee merchants on the streets.
An ornate silk caftan, 19th century.
Thanks for joining me on my trip to the Ottoman Empire. See you next time, world travelers!
A smattering of helpful links:
http://www.theottomans.org/english/index.asp
(A beautiful website with many photos of Ottoman crafts, calligraphy, embroidery, and costumery)
http://www.hennapage.com/henna/encyclopedia/turkish/endofottoman.html
( An essay done by the wonderful Catherine Cartwright-Jones about Ottoman henna in the age of steam, including fashion plates)
http://www.christies.com/LotFinder/lot_details.aspx?intObjectID=4790710
(Christie's auctionhouse, featuring their collections of antique Islamic textiles- oh to have crazymoney)
http://www.ee.bilkent.edu.tr/~history/topkapi.html
( The Topkapi Palace Museum, devoted to telling the history of the sultanate palace, lots of photos and a few articles on life in the Topkapi)